[et_pb_section fb_built="1″ _builder_version="4.0.9″][et_pb_row _builder_version="4.0.9″][et_pb_column type="4_4″ _builder_version="4.0.9″][et_pb_text _builder_version="4.0.9″]
What I Learned after Crashing My Drone
[/et_pb_text][/et_pb_column][/et_pb_row][et_pb_row _builder_version="4.0.9″][et_pb_column type="4_4″ _builder_version="4.0.9″][et_pb_text _builder_version="4.0.9″]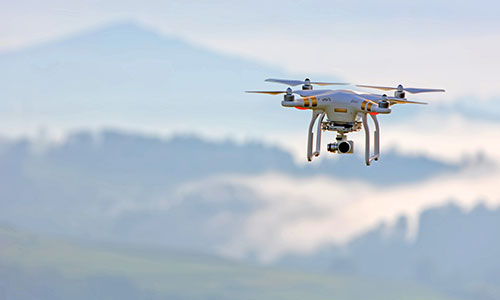 Drones are among the most coveted items for aviation enthusiasts, and probably most kids in the neighborhood, too. These high-tech toys were previously off-limits for anyone but the military or law enforcement, but recreational and hobby usage of drones has skyrocketed in recent years.

When my son asked for a drone for his birthday, I thought it would be a great way to get him to spend time outside. Kids and teens are so technically savvy these days, what could go wrong? As I soon found out: just about everything.
Within minutes of reading the instructions for his new drone, my son headed outside for his first flight. A few seconds after he managed a shaky takeoff, the drone was caught up by the wind and completely out of his control. Before we knew it, the drone was out of sight, and we had no idea how to bring it down.
We took off on foot to see if it had come down. It had—smashed to pieces on top of a car a few blocks away. The drone was destroyed. The car was pretty banged up, too. Now what?
What I Did after The Crash
Like many recreational drone users, I had no idea what I was getting into. I didn't know how difficult these "toys" could be to operate. I didn't know how common "flyaways" were (check YouTube if you don't believe me). And I certainly didn't think about being on the hook for thousands of dollars (or more) if my out-of-control drone crashed.
My son and I found the owner of the damaged car and made our apologies, along with a promise to pay for the damage. The car's owner suggested I file an insurance claim, but did I even have coverage for this type of thing? Truthfully, I hadn't thought much about recreational drone insurance, but now I was hoping that I had some type coverage for the damage we caused to the car—not to mention the destroyed drone.
I talked with my insurance company and luckily I was able to file a claim. In the end, I learned a lot about the importance of talking to my insurance agent before I purchase an item like a drone. And I learned that drones can cause a lot of damage—and can even injure people. Taking my son's drone lightly was a huge mistake.
Check Your Coverage Before You Buy A Drone
I quickly found out that while I had some coverage for the drone crash, I was going to have to pay out-of-pocket too. My insurance company covered the damage to my neighbor's car (thank goodness), but it did not pay for repair or replacement of the drone.
Here's how it works. Most homeowners insurance policies, like mine, will pay your claim if you or a member of your family harms someone else or their property with a drone. This type of incident falls under the liability portion of a homeowners or renters insurance policy for the following types of claims:
Property damage: If you damage someone else's property (e.g., my neighbor's car) with your drone, your insurance policy likely will pay for the damage. In my case, my homeowners policy covered the damage to the car.
Bodily injury: If you injure someone with your drone (e.g., my son crashes his drone into a person instead of a car), your insurance policy likely will pay for their medical expenses. My homeowners insurance would have covered injuries to others, too.
But you still need to check with your specific policy. Many home insurance policies specifically exclude coverage for aircraft, but radio-controlled model aircraft usually are covered. How your home or renters policy defines "aircraft" and whether that definition applies to your drone will determine whether  you have liability coverage for drone-related incidents. This is very important to find out before you fly your drone. If my insurance company had defined my drone as an excluded aircraft, my claim would not have been paid.
Remember, my homeowners insurance did not pay for damage to my own drone. But if the drone had been damaged by a fire or stolen while it was in my garage, it would have been covered under the contents portion of my homeowners insurance policy. Under those circumstances, my drone would be no different than any other item in my home or garage. This is because homeowners policies typically offer coverage for items that are damaged or destroyed by certain types of "covered perils"—or causes of loss. These are typically events like storms, wind, hail, fire, theft, and vandalism. You will not find "drone crash" on the list of covered losses for your personal property.
Keep in mind that personal property coverage is subject to your deductible, and that your homeowners policy, like mine, may include a dollar limit. If your drone is worth more than the policy's basic dollar limit, talk with your agent about purchasing additional personal property coverage for your drone.
Could It Get Worse? You Could Be Sued for Invasion of Privacy.
If you think crashing your drone is a problem, consider this. Invasion of privacy is a serious concern for recreational drone users. Drones with onboard cameras or other data collection capabilities can inadvertently "spy" on other people when taking pictures or video.
If my son's drone captures photos of our neighbor sunbathing in the yard, she might be inclined to sue him (me) for invasion of privacy. I could be forced to pay her for damages. And the legal costs associated with any lawsuit can be devastating.
Could I file an insurance claim in this case? Yes. The personal injury liability portion of my homeowners insurance policy provides coverage (up to the policy limits) for invasion of privacy claims. I also have a personal umbrella policy, which would also provide coverage for an invasion of privacy claim if the damages exceeded the liability coverage limit of my homeowners policy.
Keep in mind that insurance policies exclude coverage for intentional acts. If my son purposely posted the aerial photos of our neighbor on social media, I suspect my insurance company would tell me to go fly a kite.
Meanwhile, many people are rightly concerned about drones and privacy. If you or anyone in your family plans to fly a recreational drone, be aware of the privacy concerns and steer clear of any activities that could put you at risk for this kind of lawsuit.
Should I Purchase Additional Recreational Drone Insurance?
Homeowners or renters insurance is probably sufficient for most recreational drone users. But if you plan to fly your drone often, or you frequently fly in an area where there is a higher probably of causing injury or property damage, you may want to consider additional coverage.
You can purchase a drone insurance policy that goes above and beyond what is in your home or renters policy, including medical and accidental death coverage for your own injuries (not covered under home insurance), as well as additional liability coverage. This coverage would kick in after any other coverage you have has been exhausted.
If you fly a drone for business purposes, your homeowners or renters policy does not apply. Commercial drone operators need special commercial drone insurance.
Drone Regulations and Safety Tips
Since my son's hasty, unprepared, and totally ignorant first drone flight, we have both learned a lot. We won't be flying again until we: a) save up to purchase a new drone, and b) have reviewed and complied with all regulatory and safety guidelines, including:
Recreational drones that weigh more than 0.55 pounds must be registered with the FAA for a $5 fee. Keep your registration certificate in your possession at all times when operating your drone. Your registration must be renewed every three years.

Don't fly your recreational drone above 400 feet, and keep it within your line of sight at all times.

Don't fly within five miles of an airport unless you contact the airport and control tower first. Steer clear of other restricted areas (e.g., the White House, military installations).

Let your neighbors know about your drone to avoid causing any alarm.

Avoid flying near people, crowds, or stadiums.

Unmanned aircraft that weigh over 55 pounds require special registration and permission.
How to Insure Your Recreational Drone
Hobby drone insurance is new and evolving. While you may be able to get all the coverage you need with your home or renters insurance policy, don't rely on assumptions. 
[/et_pb_text][/et_pb_column][/et_pb_row][/et_pb_section]