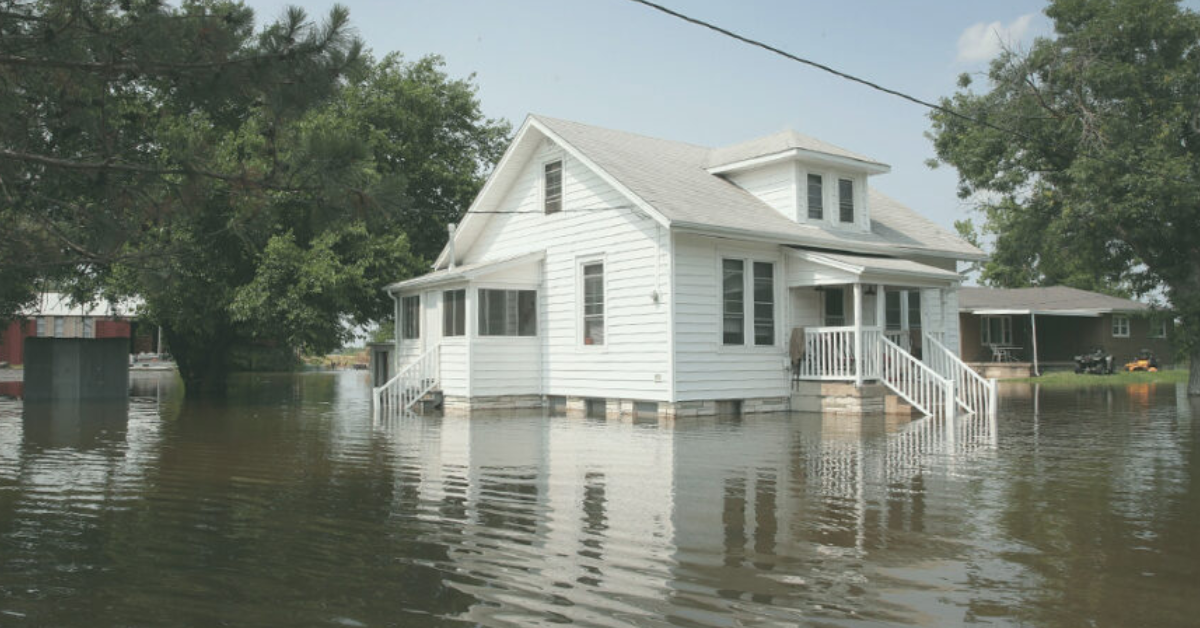 After spending hours browsing real estate listings, you think you've found the perfect home: It has everything you want at a price you can afford, and – what a treat – it's a short walk to the riverfront, or the lakefront, or the beach.
But that pleasant surprise becomes a potential liability when you read further: It's in a high-risk flood area, and your mortgage lender says you'll have to get flood insurance.
"It's tough to not want to live where you want to live because of those things that could happen," says Robert Heck, vice president of mortgage at Morty, an online mortgage broker.
Flood risk is yet another thing for already anxious homebuyers to worry about. There's the concern that your big new financial investment could be wiped away by an act of nature. Then there's the cost, added onto your monthly payment, of flood insurance, which can be in the thousands of dollars every year. And all of this is about dealing with some unpredictable future event – one that can affect you even if the flood maps say you shouldn't worry too much, and for which climate change may dramatically alter the risk.
"The most common natural disaster in the United States is flooding, yet most people don't have [flood insurance] because it's not required by their loan if they're not in a high-risk zone," says Ted Olsen, managing director at Goosehead Insurance. 
Here are some things to keep in mind when that dream house listing you're looking at comes with a chance of flooding.
What Should I Know About Flood Risk When Looking At Houses?
When you're buying any home, but especially one near a body of water that might carry additional risk, know the history of that property. Try to get insurance claim information so you know if the property has flooded before, and what happened because of it. You're buying more than just a house, you're choosing to live in that area, so you should know what you're getting into, Heck says. "I would probably try to look back at flood history in the area as well to get a better sense of frequency and understanding of what the fallout was afterward," he says.
Buyers should be aware of the risk at the properties they view,  says Melissa McClendon, a Realtor and co-owner of NOLA Home Realty Group in New Orleans. "When my clients are interested in properties, we look at the flood zone first," she says. In New Orleans, flood risk can significantly affect the price, she says. Areas protected by levees are desirable, while properties in higher risk zones might sit on the market longer or sell for less.
When Does A House Need Flood Insurance?
FEMA's flood maps grade areas based on their risk. Areas rated with the letters B, C and X are at reduced risk, and flood insurance is not required. If you buy a home in an area rated with A or V, however, you'll be required to have flood insurance for most types of mortgages. Note that these zones aren't "flood risk" and "no flood risk," Olsen says. "Every home is in a flood zone, there's just a varying degree of risk in different zones."
While flood insurance is mandatory in high-risk areas, there are ways you can mitigate your risk and reduce your cost, Olsen says. When you buy a home, see if the seller has an elevation certificate that identifies how high up the house actually is on the property.
That also means homeowners can lower their insurance costs by making changes, McClendon says. "That may mean raising their home to a height that can help it from flooding over time," she says. "If they really want the area, really want the home, there may be some things that can be done to lower their risk and lower your flood insurance cost."
If you need flood insurance, you can shop around for different carriers. That wasn't the case before 2012, Olsen says, and coverage through the National Flood Insurance Program is still at a set price and coverage level. Private insurers can offer some different options, however, such as higher coverage limits and combined plans that cover every structure on your property. "Now we have choice and it's important that consumers reach out to an agent who's knowledgeable," Olsen says. 
Pro Tip: Talk to the home's seller about their flood insurance, flooding history and other information. You might be able to assume their policy or use an elevation certificate to get a better rate.
Plans for high-risk areas can range from $800 or so to upwards of $6,000 per year, depending on the risk, Olsen says. Lower-risk areas might have premiums of a few hundred dollars a year. You can even assume a previous owner's insurance.
Will Homeowners Insurance Cover Flood Damage?
In short: No, homeowners insurance won't protect you in the event of a flood. It may cover damage from water backups, such as if a pipe breaks and fills your basement with water, but not if the water is coming from a nearby lake, river, or ocean, Olsen says. You'll need flood insurance to protect your investment from natural disasters. 
Despite that caveat, Olsen suggests you still get other endorsements for your homeowners policy that cover water damage, including coverage of sump pump failure and backup of sewers and drains. "That's covered on your home insurance because that's not a flood," he says.
You may be able to get both your homeowners insurance and flood insurance from the same provider, or you may need to buy them separately, Heck says.
Should I Get Flood Insurance Even If It's Not Required?
Just because you're in a "low-risk" flood area doesn't mean there's no risk. Olsen says about a quarter of claims are from homes in low-risk areas, and those numbers are higher during major natural disasters like Hurricane Harvey, which caused massive flooding around Houston in 2017. 
You may want to consider flood insurance even if the risk is relatively low, especially if you're in an area where the risk of natural disasters such as hurricanes is high. McClendon says she advises buyers to think about getting it regardless of the property's risk.
"We saw Hurricane Katrina happen. Areas that never flooded, we saw it flood, and it was nine feet underwater," she says. "Buyers in our area are very, very cautious to get flood insurance even if it's in an X flood zone."
Experts say climate change is making it more important for homeowners to prepare for the unexpected. Increasingly unpredictable weather patterns mean historical averages aren't as reliable of a predictor of future events, Olsen says.
"Things are happening in areas they didn't happen before," he says. "For that reason it's important regardless of what you've experienced in the past to explore your options with your agent."
To read the full article, click here.