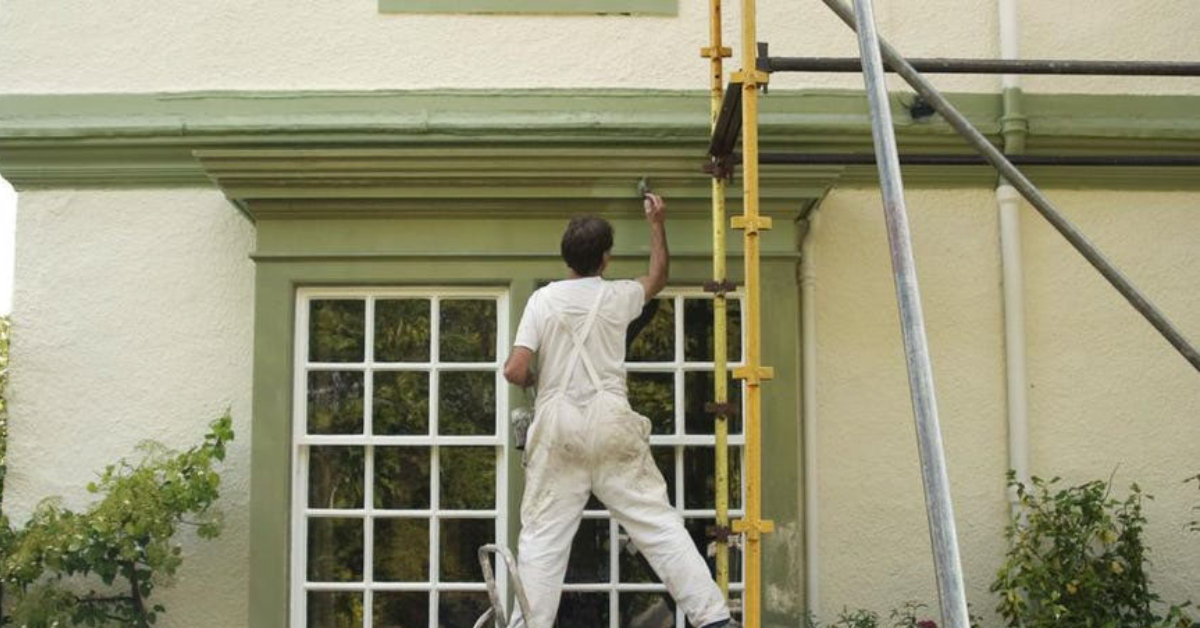 With so many options to choose from, you may be wondering how to narrow down the giant list of the best exterior paint choices to ensure you're selecting the best exterior paint for your specific home, location, and needs. We're here to help you with that step, too.
Here we provide a few quick tips on things to consider when choosing from the wide range of paint options on the market. You want the best of the best for your exterior paint job—and we'll help you narrow it down!
The Best Exterior Paint for Your Outdoor Painting Project
This list includes the highest quality paints, the best exterior paints on a budget, the best eco-friendly paints, the best exterior paints for rainy/humid regions, and the best fade-resistant paints for warmer regions that get a lot of sunlight.
Behr Marquee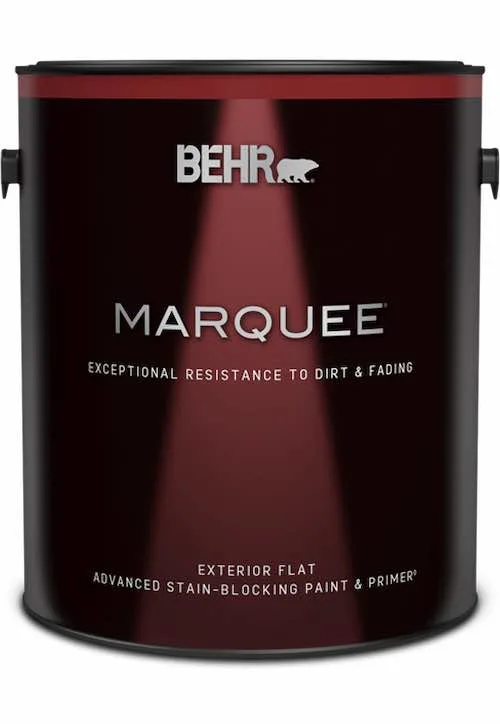 Behr Marquee is Behr's premium line of exterior paint while still maintaining Behr's great pricing and lifetime warranty.
Due to it's one coat coverage, dirt and rain resistance, fade protection, and amazing adhesion, Marquee is my top pick for exterior paints and the one I use when painting my clients homes.
If your previous exterior paint is in good shape, you can simply power wash your home and apply Marquee, no primer needed.
One coat coverage works great if you are painting over a similar color, but I still usually go with two in most situations.
Benjamin Moore Regal Select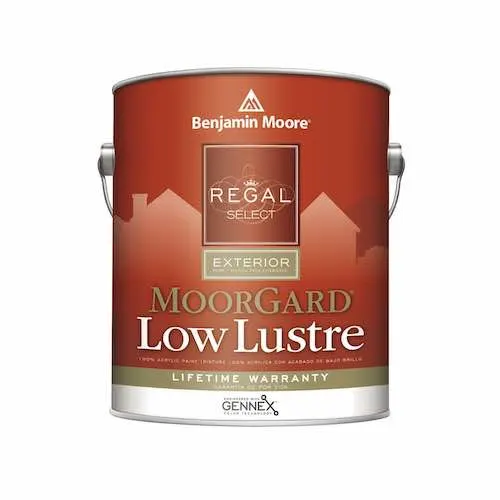 Regal Select is Benjamin Moore's top of the line exterior paint with a price to match.
Regal Select is a hybrid type paint meaning it is a 100% acrylic coating with alkyd technology, basically a water based paint with the performance of an oil.
It comes with a lifetime warranty, great flow and leveling, resists fading, cracking and peeling, and has great adhesion.
I love using Regal Select and think it is completely equal to Behr Marquee, the only difference is that Real Select costs about $20 more per gallon than Marquee.
Behr Ultra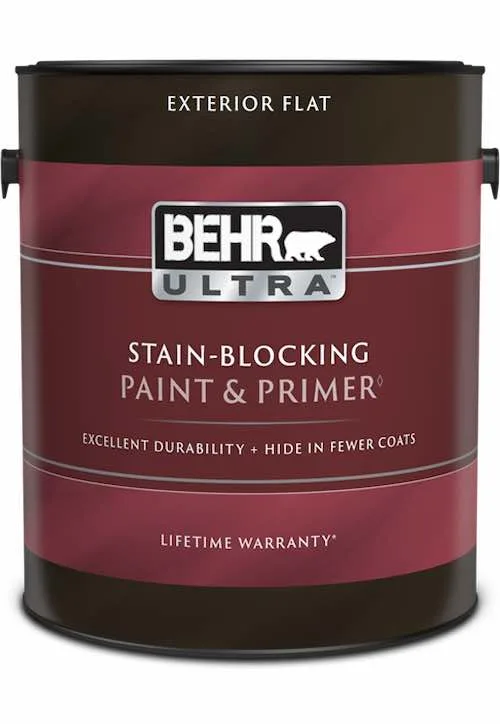 While Behr Marquee is my favorite exterior paint, Behr Ultra is probably the exterior paint I use the most. I have used it on my own home as well as many clients over the years and have never had anything but a great experience.
Behr Ultra comes with a Lifetime Warranty, is great at stain blocking, has excellent hide, and great stain and dirt resistance. Behr Ultra also have the benefit of being a mildew resistant finish.
Behr Ultra comes in roughly $15 less than Marquee, $35 less than BM Regal Select, and about $10 less than Ben.
Benjamin Moore Ben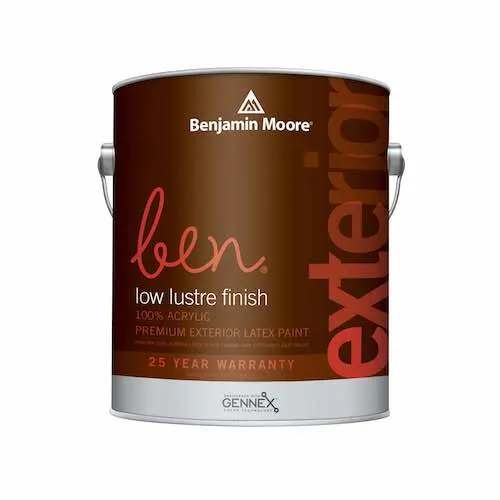 Not to be confused with cheap paint, Ben is Benjamin Moore's cheaper exterior paint while still being and incredibly high quality and high performing paint.
Ben comes with a 25 year warranty, has excellent adhesion, color retention, flow and leveling.
Ben can be exposed to rain in as little as 90-120 minutes after application and applied in temps down to 35 degrees.
Best Exterior Primer
Zinsser Peel Stop Triple Thick
While most paints these days offer paint and primer in one, sometimes you need a legit primer to ensure a long lasting paint job.
Zinsser Peel Stop Triple Thick is my favorite primer for problem houses with peeling issues.
Peel Stop Triple Thick basically acts like a glue over the surface of your old peeling paint and glues it onto the surface. It goes on clear and is not meant to hide anything, it is purely to prevent future paint peeling.
I cannot over state this, if you have peeling issues on your house, you should absolutely use Peel Stop. It is the best way to prevent future peeling after your new paint job.
The All-Around Best Exterior Paint for DIY Projects
The following are the highest-quality of the best exterior paints, and as a result, also the most expensive. The quality is worth the price!
1. Sherwin Williams Duration Exterior Latex
This Sherwin Williams paint is at the top of our list of the best exterior paints because it is made with advanced acrylic copolymers that enable it to last longer than just about any other paint. Sherwin Williams Duration Exterior Latex paint is low-VOC, meaning that the fumes are not as bad for you as many other paint fumes. While no fumes are great to breathe in as you work or as the paint dries over the next several days, this one at least is less of a concern.
Another reason this paint is at the top of our list of the best exterior paints is that it is self-priming. This means that you'll only need to apply one coat in most cases, and at maximum, no more than two. Fewer coats of paint and no need to prime will save you time and help you save on the cost of additional paint for additional coats.
The only downside of this paint is that it is more on the expensive side. But it is well worth the cost. Pay a little more upfront for a beautiful paint job that lasts for several years. And this one comes in more than 100 colors, so you're sure to find something to suit your color preferences.
2. Sherwin Williams SuperPaint Exterior Acrylic Latex
Another high-quality exterior paint is SuperPaint Exterior Acrylic Latex by Sherwin Williams. This paint is one of the best exterior paints because it is formulated with advanced resin technology that helps it adhere more strongly to the base surface, retain it's color longer, and hide imperfections in the surface more effectively. This Sherwin Williams paint is also available in over 100 colors and is mold- and mildew-resistant.
A little less pricey than the Duration Exterior Latex, SuperPaint Exterior Acrylic Latex is still one of the best exterior paint choices. You just may need to start with primer and apply an extra coat or two to achieve the same paint quality.
3. Behr Premium Plus Paint and Primer
Firstly, paint and primer in one is always nice because it reduces the number of coats you need to add. So there's time saved right off the bat! Behr Premium Plus Paint and Primer is a 100% acrylic formulation with low VOCs so won't have to be as concerned about strong fumes as you may need to be with other paints. This paint is made with a long-lasting formulation that resists fading and staining – great qualities for an exterior paint!
Additionally, this paint is available in over 2000 colors. That's not an accidental extra zero – this paint is available in over two-thousand color variations. Flat, satin, semi-gloss, and high-gloss finishes are also available with this paint in any of those colors.
4. Behr Ultra Paint and Primer
Behr Ultra Paint and Primer also offers the time savings that come with paint-and-primer combos. But more importantly, it is formulated to not only resist stains but also hide them better. So a stain is less likely to absorb from under your paint job and show through. If your home's exterior has taken a bit of a beating from weather, pets, and/or kids, this paint will hide all the evidence better than most.
Available in flat, satin, and semi-gloss finishes, there are also a lot of colors to choose from for this one. And it's formulated for cold application, so you can paint with it in temperatures as low as 35 degrees Fahrenheit.
5. Glidden Premium Winter Walk White Satin Latex Exterior Paint
Coming in at about 60-70% of the cost of the top two best exterior paints, Glidden Premium Winter Walk White Satin Latex Exterior Paint is formulated as a durable acrylic paint for a quality coat on outdoor surfaces. It dries quickly (under an hour) and is both a paint and primer in one.
With mildew resistance, fade resistance, and UV resistance, it's no wonder this affordable option is still one of the best exterior paints. Really the only downside to this one is that it only comes in one color. If you're looking for a white exterior paint color, or just some white to paint your exterior trim, then this is an excellent budget-friendly option.
6. Ecos Exterior Vinyl Siding Paint
The Ecos Exterior Vinyl Siding Paint has a medium sheen that dries to a hard, protective shell to keep your vinyl siding protected from the elements. This paint is specifically formulated to bond to vinyl surfaces and is ideal for vinyl siding and vinyl shutters, but not recommended for wood. It's long-lasting and stands up well to pressure washing.
7. Ecos Exterior Wall Paint
Available in low-luster and satin finishes, the Ecos Exterior Wall Paint is specifically formulated for exterior walls made from materials such as stone, cinder block, brick, concrete, and concrete siding. It bonds well to these textured surfaces and will perform well against weathering, however it is not ideal for areas that are permanently wet.
8. Ecos Exterior Porch and Floor Paint
Ecos Exterior Porch and Floor Paint is ideal for covered concrete floors and porches. It has a high-sheen finish and will stand up to excessive foot traffic as well as pressure washing, but it is not suited to areas that are permanently wet such as pools decks or fishing docks.
9. Aura Exterior Paint Flat
The Aura Exterior Paint Flat has Benjamin Moore's Color Lock technology that allows colors to appear rich even in bright sunlight and comes with superior fade resistance. If you live in a place like Arizona, or even if you just don't have any trees or tall buildings around and want the best exterior paint that will hold up to frequent sunshine, then the Aura Exterior Paint Flat is a great choice for you.
Aura Exterior Paint is available in other finishes besides flat, but flat is an excellent choice for sunny areas to reduce glare. And while flat has more microscopic surface area on which mold and mildew could try to grow, you don't have to worry about that so much if your main concern is hot sun exposure.
This paint is 100% acrylic and available in thousands of colors from Benjamin Moore.
10. Behr Marquee Flat Exterior Paint and Primer
If you're on the hunt for a paint-and-primer duo to save you the time of priming separately, then consider Marquee Flat Exterior Paint and Primer by Behr. The flat finish will reduce glare from the sun, and the paint-and-primer mix will save you some time in application. This paint is formulated with cutting-edge UV protection technology to help your color stay rich and beautiful longer than most other paints, even with extended sun exposure.
Another reason this is one of the best exterior paints is that it comes with a one-coat guarantee for more than 700 of the colors it is available in – this means not only will you get to skip priming, but if you pick one of those 700 colors, you won't need to apply a second or third coat, either.
11. Aura Exterior Paint Semi-Gloss
The Aura Exterior Paint Semi-Gloss is one of the best exterior paints because it's specially made to be weather-resistant and comes with the same fade-resistance technology as the flat finish described above, but the semi-gloss finish is more mold- and mildew-resistant. This slightly shinier finish suits a humid/rainy area like Washington where there's less sunlight and a greater risk for growing unwanted green stuff on your exterior walls.
Aura Exterior Paint is available in other finishes, but this finish will be the best for keeping mold and mildew off your home's exterior. It is 100% acrylic and available in thousands of colors.
12. Valspar Duramax Satin Base
Valspar Duramax Satin Base 4 dries in 1.5 hours. That's right – a fraction of the time of most paints on the market. Crazy fast. Because of its incredible drying time, this paint is great for applying in places where you may only have a couple of hours between rainstorms. While it does dry fast enough to prevent blisters or warping during a rainstorm right after application, and it is equipped with Valspar's all-weather-adhesion, it will still bond best to a surface that is dry to start with.
You can apply this paint in temperatures as low as 35 degrees Fahrenheit or as high as 90 degrees Fahrenheit and rest assured that it will dry quickly in any weather. The finish is mold-, algae-, and mildew-resistant, making it one of the best exterior paints for humid regions.
13. WaterBlock® Acrylic Masonry Waterproofer
Benjamin Moore's WaterBlock® Acrylic Masonry Waterproofer is made for serious waterproofing. This real-deal waterproofing paint seals exterior masonry surfaces to keep them clean and dry inside and out. Retaining walls, foundations, basement walls – any surface made from brick, concrete blocks, or stucco will especially benefit from this high-quality weatherproof paint.
With water resistance up to 12 psi hydrostatic pressure, you can rest assured that this paint is the best exterior paint for high-humidity and high-rainfall areas, and it will seal your walls completely to keep your home safe from water damage, as long as it is applied correctly.
How To Choose the Best Exterior Paint for Your Project
Low VOCs
What are VOCs? In short, they're "volatile organic compounds" that emit toxic fumes. Many paints of the oil-based variety are heavier on VOCs in an attempt to improve their durability and speed up their drying time; however, you may find VOCs in some acrylic and latex paints as well, to a lesser extent. The overall trend is to remove VOCs from paint entirely, but until such a time as that goal is achieved, you'll want to note the VOC content in whatever paint you choose, particularly if you're sensitive to fumes.
Durability
When it comes to choosing the best exterior paint for your project, you want a paint job that's going to last and be worth the time and money you sink into it! For that reason, you may want to consider high-quality latex and acrylic paints, as these usually are usually thicker, hardier, and have a better pigment-and-solid ratio than some of the lower-quality paints on the market.
If you're on the hunt for oil-based paints, however, please note that these will tend to be thinner by nature than latex or acrylic, which does not reflect on their overall quality. In addition, while they are more durable, oil-based paints tend to yellow more quickly and contain a higher level of VOCs.
Dry Time
Dry time goes deeper than just wet-to-the-touch or ready for a second coat; there's an additional step called "curing", which is when all the liquid ingredients in paint have evaporated. This can vary based on paint type, with latex and acrylic typically taking a couple of weeks to cure, and oil taking up to a month—all dependent on the humidity and heat levels in the environment. Care should be taken to avoid leaning things up against an uncured surface, so you will want to take that into consideration when choosing which paint with which cure time is best for your needs.
Color Duration
Picking a color is an important step, as the shade of your home makes a bold statement. You'll want a color that lasts, so be sure to choose a higher quality paint, as these typically contain better pigments with less fading over time.
Cheaper paints, while less expensive, will often contain fillers that make your paint job dull out more quickly—which means you'll end up spending more time and effort in the long run to repaint your home! Also note that darker exterior colors naturally tend to fade more quickly, so you'll want to choose a color scheme that's mindful of sun exposure in your particular area.
Weather Resistance
There's no avoiding the elements, so you'll want a paint that can stand up to the roughest and fairest of weather in your specific region. Oil-based and acrylic-based paints tend to be popular for their cleanability and durability against rain in particular, but if you're choosing an acrylic option, be sure it's fully acrylic-based, not partial…otherwise there may not be enough acrylic in the formula to fully seal the water out, which can lead to brittle, cracking, peeling paint.
Climate Factors
Your regional location truly matters when choosing the right exterior paint! Different paints are made to withstand different environmental factors—such as strength and daily duration of sunlight, exposure to rain, temperature variance, etc. All of these will have an effect on how your paint holds up.
If you live in an area with cooler temperatures, be sure to choose a paint that dries well in that climate; the same if you live in a warmer region. For humid locations that receive lots of rain, a mildew-resistant formula is recommended, while a highly-sunny locale necessitates a UV-resistant one instead. All of these and more are factors you'll want to account for when you choose the best exterior paint for your outdoor project.
Surface Factors
When painting over your exterior, if you're not working on a raw, unpainted surface, in general you'll want to use the same type of paint as the exterior's previous coat—latex over latex, oil over oil, etc. While there are exceptions to this rule, typically the solvents in mismatched paint types can cause cracking, peeling, bubbling, and other undesirable outcomes.
In addition, you'll want to ensure that you're using a paint compatible with the type of siding on your exterior. Certain paints don't bond well with certain surfaces, some are tailored only to wood, others to vinyl, and so on. It's important to familiarize yourself with your home's existing paint and surface types to gurantee you're choosing the best option for your unique exterior!
Preparation and Application
While this can lengthen the process a bit and require some extra care, it's important to make sure that you prepare the exterior surface to receive your paint so you don't find all your hard work, time, and money going to waste! Taking the time to strip away loose or peeling paint, power-or-hand-wash surfaces, and thoroughly dry them before painting will set you up for maximum success.
You will also want to prepare your outdoor areas for your painting job, using drop cloths, painter's tape, etc. Make note of any surfaces such as eating spots and children's play areas, and keep in mind the type of paint you'll be using to ensure no toxins come into contact with highly-traffic areas.
These few extra steps will help ensure that the work you put into choosing the best exterior paint doesn't go to waste!
To read the full article, click here.