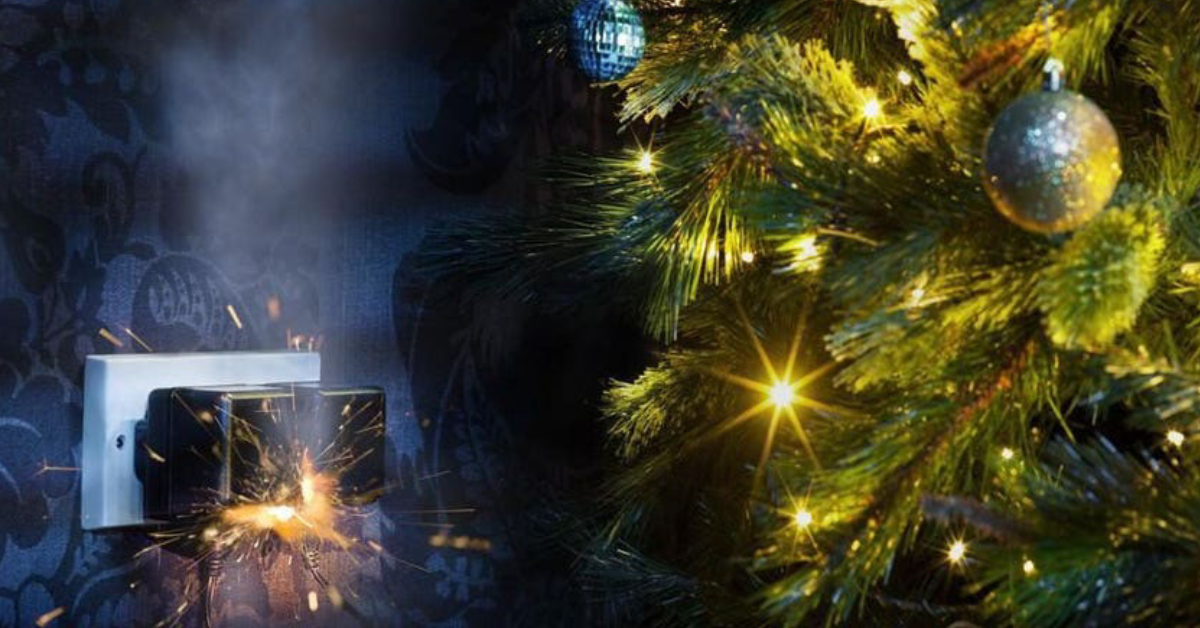 You know Dasher and Dancer and Prancer and Vixen, but do you recall the most infamous holiday disasters of all?
Okay, so maybe that doesn't make for the most joyous of Christmas carols, but it's good to know that the holiday season comes with a few added risks. You can reduce your own chances of disaster if you know what to watch for during the holidays.
Don't Leave Milk and Cookies Out for Car Thieves
Trouble could start right in your driveway. Historically, car thieves don't take time off for the holidays. In fact, New Year's Day is the No. 1 holiday for car theft, according to the National Insurance Crime Bureau. New Year's Eve was the fourth most popular day for car thieves.
If there is a silver lining for holiday car theft, it's that thieves may be slightly more charitable around Christmas time. On average, there are 2,175 cars stolen in the United States every day. But there is a decrease in car theft on Christmas Eve (2,011) and Christmas Day (1,580).
Fires Involving Christmas Trees and Lights
A homeowners insurance policy covers fire in and around your home, including a Christmas tree fire.
Data from the National Fire Protection Association (NFPA) indicates Christmas tree fires aren't common, but they can be deadly.
Between 2014 and 2018, U.S. firefighters responded to an average of 160 home fires a year that started with Christmas trees, the NFPA says. These blazes caused an average of two deaths, 14 injuries and $10 million in property damage each year.
During the 2014 to 2018 timeframe, 45% of home Christmas tree fires involved electrical or lighting equipment, according to the NFPA.
Safety Tips
Two of the simplest ways to keep your home free from fire dangers during the holiday season are to make sure your smoke alarms are working correctly and to put up an artificial tree only if it's fire-rated.
The NFPA offers these additional recommendations for preventing your home from becoming a fire scene:
Pick a live one. Look for a tree with fresh, green needles that don't fall off when you touch them. Before placing your tree in the stand, cut two inches from the base of the trunk.
Keep some distance. Place your tree at least 3 feet away from any source of heat, such as radiators, heating vents, lights, candles and fireplaces.
Stay hydrated. Add water each day to the stand for a live tree.
Use quality lights. Only use tree lights that carry the label of a qualified testing laboratory. Keep in mind, some lights are for indoor use only.
Inspect your lights. Replace strings of lights that have worn or broken cords or loose bulb connections.
Never decorate your tree with lit candles.
Turn off the lights before you leave your home or go to bed.
Get rid of your tree. Dispose of your live tree after Christmas or when it dries out. Do not put it in your garage or placed outside against your home. Dried out trees are a fire hazard.
Take down your lights. Bring your outdoor lights inside after the holiday season to reduce fire risk and make your lights last longer.
In addition, be careful when climbing a ladder to hang Christmas lights and decorations. Falls lead to thousands of holiday-decorating injuries each year.
Kitchen Fires
Your home insurance policy will cover kitchen fires, which is a good thing because there are a lot of them during the holidays.
Christmas Day and Christmas Eve are two of the most festive days of the year. They're also among the top five days for home cooking fires, according to a 2020 report by the NFPA. On Christmas Day that year, U.S. fire departments received reports of 740 home cooking fires. On Christmas Eve, the total was 650. In 2018, the daily average for home cooking fires was 470.
Sadly, these fires can do more than ruin a turkey or ham. From 2014 to 2018, home cooking fires led to an average of 550 deaths per year, along with 4,820 injuries and $1.2 billion in property damage, the NFPA says.
Safety Tips
Nearly half (44%) of all home fires start in the kitchen. Here are some tips from the NFPA to stay safe while whipping up holiday meals:
Stay in the kitchen. You may want to head to the living room to watch football or chat with relatives while food is cooking in the kitchen, but it's a dangerous move. Remain in the kitchen while you're cooking. Even if you leave the kitchen for a brief time, turn off the stove. Unattended cooking is the No. 1 cause of cooking fires and casualties.
Stay alert. If you're feeling sleepy or you've sipped too much wine, have someone else man the stove.
Watch the food. Check food regularly while cooking and set timers as reminders.
Keep kids at a distance. Create a "kid-free zone" of at least 3 feet around the stove and areas where hot food or drinks are being prepared or served.
Accidents Involving Holiday Guests
Home-related accidents can definitely put a damper on the holiday spirit. Your Uncle Al may break his arm when he slips and falls on your ice-covered front steps as he's arriving for Christmas Eve dinner. Or your Aunt Sally might down too much bubbly on New Year's Eve, then get behind the wheel of her SUV and cause an accident.
Your homeowners insurance includes coverage for injuries to guests. If it's a small injury, you may want to tap your home insurance policy's medical payments coverage. Claims under this coverage can be made quickly because the insurer won't need to determine who's at fault. But medical payments coverage limits can be low, such as $1,000.
For more expensive guest injuries, homeowners policies provide at least $100,000 in personal liability coverage. (You can bump up this liability limit and/or add umbrella insurance for extra coverage.) If you're sued by a guest, liability coverage also pays for your legal defense.
Now, let's consider Aunt Sally's drunk driving accident.
As a social host, you may be responsible for the actions of Sally or any other guest who gets tipsy at your home. That means you can be sued if a drunk guest leaves and causes an accident.
Some homeowners insurance policies provide liquor liability coverage (assuming it doesn't involve liquor served to a minor). But don't assume yours does. Contact your home insurance agent to confirm; if your policy won't cover you as a host for liquor liability, you may be able to add a "host liquor" endorsement and ensure you have coverage.
Safety Tips
Here are some ways to keep your home from becoming a holiday danger zone:
Clear snow and ice from walkways, driveways and stairs before guests arrive.
Make sure exterior lights are working.
Apply double-sided tape or use no-slip mats to make sure area rugs are secure and don't turn into trip-and-fall hazards.
Remove clutter like toys, laundry and wrapping paper to decrease the odds of a guest slipping or tripping.
Clean up spills as soon as possible so that a guest doesn't slip on a slick floor.
Most importantly, don't allow a visitor who's visibly intoxicated to get behind the wheel of their car. If you let that visitor drive away, you could be held responsible for a car accident that's their fault.
The Insurance Information Institute offers these additional recommendations for steering clear of booze-fueled holiday disasters:
Encourage guests who've been drinking to ride home with a designated sober driver. If that's not possible, arrange for a taxi or rideshare, or invite an inebriated guest to spend the night at your house.
Serve plenty of food and nonalcoholic beverages to lower the chances of your guests becoming intoxicated.
To read the full article, click here.