[et_pb_section fb_built="1″ _builder_version="4.0.9″][et_pb_row _builder_version="4.0.9″][et_pb_column type="4_4″ _builder_version="4.0.9″][et_pb_text _builder_version="4.0.9″ hover_enabled="0″]
Finding the Best RV Insurance for You
[/et_pb_text][/et_pb_column][/et_pb_row][et_pb_row _builder_version="4.0.9″][et_pb_column type="4_4″ _builder_version="4.0.9″][et_pb_text _builder_version="4.0.9″]

There's been a pretty big shift in the RV (or recreational vehicle) world in the past few years as more and more Gen Xers and Millennials have begun celebrating the traveling home on wheels lifestyle. 
And who can blame them? After all, with an RV, you get all the joys of travel rolled-up tight with the comforts of staying right on your couch. 
Share of Americans planning to buy an RV (motorhome) in the next 12 months as of 2018, by age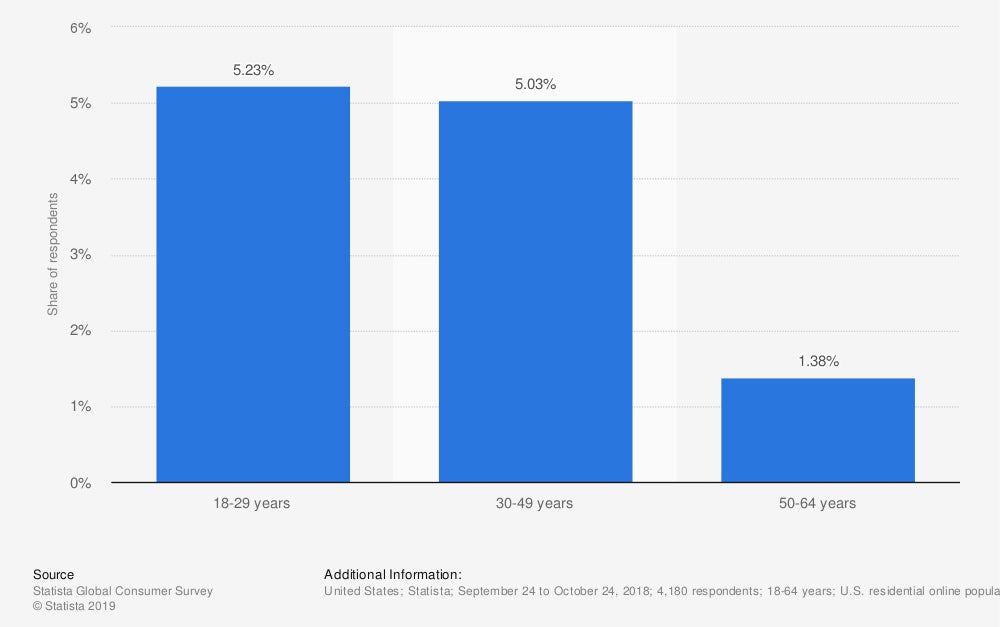 But before you go all-in and invest in your very own RV, you'll want to make sure you're set up with the right insurance coverage to protect you from any potential hazards of the road. 
Types of RVs and Motorhomes
Before you can find out what type of insurance you need, you need to know how your vehicle is classified. So which is it:
Class A motorhomes: Largest RVs on the road – a home on wheels
Class B motorhomes: The small RVs – a van with amenities
Class C motorhomes: Midsize models, sometimes called mini-motorhomes
Motorhome bus conversion: A bus converted to an RV
Travel trailers: Towable motorhomes typically attached by a trailer hitch
Fifth wheels: Towable motorhomes attached to a truck with a fifth-wheel hitch
Truck campers: Add-on campers attached to a truck bed
When you talk to your agent, this will be where you start. And once they've established what your main goals are with your RV, you can move on to the coverages you need.
Why Do I Need RV Insurance?
Your RV is pretty much a combo of your home and your car. And despite being on wheels, it still includes homey comforts like a bed, dishes, a TV, and even a fridge. That means your policy coverage needs to be a bit more extensive, to reflect the protection you need. Think of it kinda like this:
Now, you most likely financed your RV through a bank. And more often than not, the lender will require insurance for your RV in order to finalize the deal and protect their investment in you. So in this case, it is mandatory.
Beyond that, most US states require a liability policy at an absolute minimum to cover any property damage, medical costs, or legal fees that come along with an accident. 
Several states go even further, requiring uninsured/underinsured motorist coverage in case you're hit by another driver who doesn't have insurance, or doesn't have enough to pay for the damage. 
Just now, required or not, proper coverage is always recommended. After all, you never know what type of incidents you'll encounter out on the road. And without the right protection in place, you'll be paying it all out of pocket.
What Does RV Insurance Cover?
Your RV insurance policy can cover a number of situations. In most cases, your coverage limits are typically up to you, with the exception of areas that have already put legal minimums in place. 
For convenience, some RV owners just add coverage to their personal auto policy (PAP). But beware, this can leave a significant number of coverage gaps in your personal property and liability. It's recommended you have a higher limit on your coverage that's more inclusive of the specific incidents that occur with RVs.
One big factor in deciding the type of coverage you need is how you plan on using it. If you only use your RV occasionally for seasonal trips or as a permanent residence without moving it, you probably don't need a lot of protection. 
But if you're constantly traveling the roads, you'll need specialized coverage called full-timers coverage (See below.) 
Now that we have that established, let's start with some standard coverage options available:
Liability insurance: Covers the costs associated with any injuries or property damage you're responsible for due to an accident.
Collision: Covers the costs to repair or replace your damaged or destroyed vehicle after an accident.
Comprehensive: Formally known as "other than collision," this portion of your policy covers damage to your vehicle from things like theft and weather damage.
Personal injury protection/medical payments: Pays medical bills and other expenses whether you're at fault or not
Uninsured/underinsured motorists: Protects you financially if the other driver doesn't have any car insurance or not enough to pay for all expenses.
Additional coverage options can include the following:
Total loss replacement: Pays to replace your RV in the event of a total loss. This is usually only available for brand-new RVs that have never had a previous owner. 
Physical damage coverage: Covers physical damage or theft.
Pet injury coverage: Covers vet fees for an injury to an animal or replacement costs for death.
Towing and roadside assistance: Covers the cost for a professional to help fix covered problems or to tow your vehicle to a repair shop.
Attached accessories: Coverage helps to repair or replace things like antennas and awnings.
Personal effects coverage: Covers personal property like dishes and sporting equipment.
Vacation liability: Covers the cost of bodily injury or property damage that occurs when the RV is being used as a temporary residence.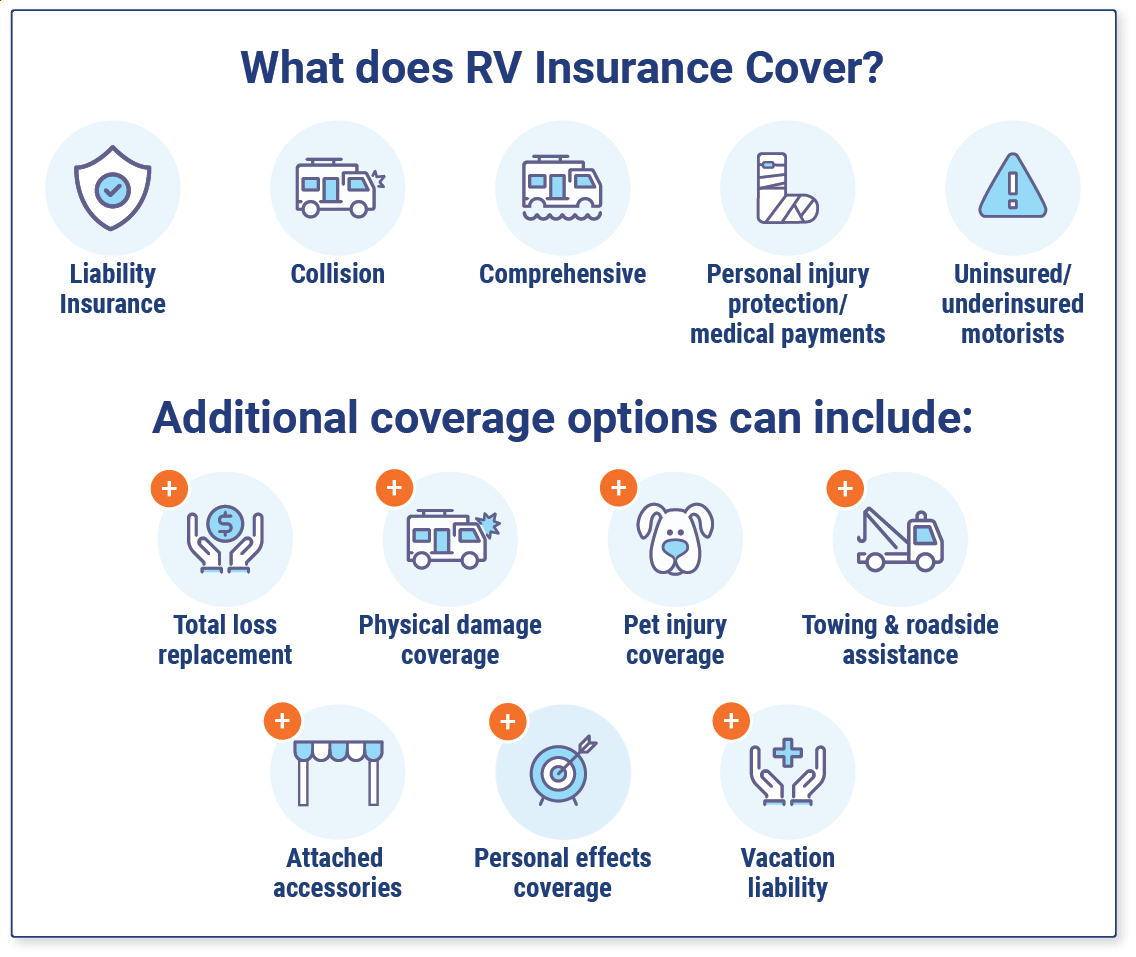 For full-timers, though, coverage options will typically have higher liability limits similar to a homeowners policy. Options can include:
Full-timers personal liability

Full-timers medical payments coverage

Full-timers loss assessment coverage

Full-timers secured storage contents coverage
Miscellaneous Coverage Features
Policies can carry a number of different coverages, which can typically be added through an endorsement. An insurance endorsement is an addition to your insurance contract that provides unique coverage not listed in your original policy and can include:
Emergency expense

Rental reimbursement

Miscellaneous vehicles

Loan/Lease payoff

Coverage suspension
How Much Does RV Insurance Cost?
Because no two RVs and their drivers are the same, no two policies are the same. Which means it's impossible to say exactly what your RV insurance will cost. 
But basically, your RV or motorhome insurance premiums will depend on the type of coverage you choose, your state's requirements, and a few other key factors, like: 
Where you travel: A full-timer will need different coverage than a recreational motorist. How far you travel and where also matters, since areas with more risk will need additional protections.
What you ride: The type of motorhome you're driving will make a big difference, too. A truck camper or travel trailer doesn't have the same luxe amenities as a Class A motorhome, so it's usually cheaper to repair or replace after an accident.
How you ride: Your driving history is important. It tells an insurance company whether you're a risk-taker or a more cautious driver. If your driving record is full of traffic tickets and accidents, you'll be considered higher-risk and typically pay higher premiums.

Get Lower Rates When You Bundle Your RV Insurance
Unless you live completely out of your RV, you'll most likely already have multiple insurance policies—from your car, to your home, or maybe even your boat. 
If you take those existing policies and bundle them with your RV policy, you should get a nice little discount, because your carrier appreciates all your business in one place. Not to mention it's much easier to have all your coverages in one place.
[/et_pb_text][/et_pb_column][/et_pb_row][/et_pb_section]