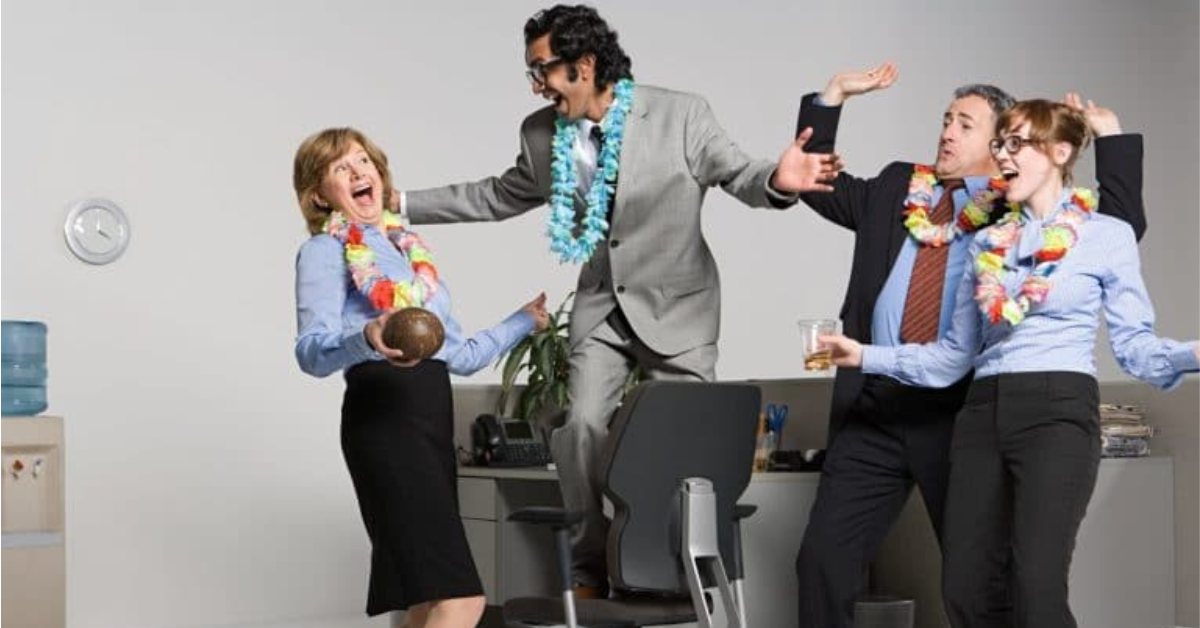 Time to discover some Christmas fun at work. Why? Christmas is right around the corner, and the holiday spirit is in full gear everywhere. Though the holiday season is a time that is often spent with your loved ones, many people have to go to work. Today, many companies require that all or some of their employees work during Christmas as it may be a busy time. Depending on which business you are in or your general workload of course. The idea is to enjoy the holiday season and take advantage of employee engagement. So, why not pursue some office Christmas activities.
Office Christmas activities
Having to come to work every day during the holiday season is no fun for anyone, but there are some steps that you can take to boost the festive spirit amongst your team or departments.
There is no reason that you should miss out on some holiday fun just because you are at work. Besides, if you want to engage employees and have fun at work, Christmas is a perfect time. That said, here are ten ideas to have fun at work during Christmas time.
1. Decorate the workplace to add some Christmas cheer
One of the most fun parts of Christmas is putting up the decorations. Let's admit it – it's hard not to have at least a little festive spirit when the whole place is decorated with lights, tinsel, Christmas socks and hats, and of course, a Christmas tree.
You'd be surprised at how a bit of decoration here and there can make colleagues feel excited about the holidays, even if they have to spend it in the office. So, if you want to encourage Christmas fun at work, Christmas decorations is a good start.
A great way to make decorating even more fun is to have the whole team involved and set a date and time to put up the decorations. This will show your colleagues that you value them and want them to have a memorable holiday experience.
2. Play Secret Santa
What's Christmas fun at work if you don't play Secret Santa? While being original in your Christmas celebrations is essential, you shouldn't forget about certain holiday traditions like these.
The truth is that it just won't feel like Christmas without them! Besides, Secret Santa is a great way to get all your colleagues across different teams together, while also making sure that everyone receives some holiday appreciation.
Prepare name cards for each person and have everyone choose one. The card they choose is who they should be Secret Santa for. If you have many colleagues on different teams, you can even use online tools or an app to organize the Secret Santa at work.
3. Have an Ugly Christmas Sweater Day
Ugly Christmas sweaters have somewhat become a holiday tradition, so why not add some holiday cheer. This will surely be a number one for office Christmas activities. Come to work wearing your ugliest Christmas sweater.
An Ugly Christmas Sweater Day at work will not only help your colleagues feel excited about the season, but it is also a great way to indulge in a riot of laughter. You can even make it a competition and pick the ugliest sweater!
4. Host an Awards Ceremony
Christmas is a time for cheer and appreciation, so why not host an awards ceremony for your colleagues? Even if your colleagues have to come in for work during a time when the majority of the workforce is enjoying their holidays at home, rewarding them for their hard work and dedication will surely make them feel valued and appreciated by the company.
After all, this is a time for appreciation, so why not reward people for being "the most positive person in the office" for being "the kindest and most helpful" or for being "the most helpful"? etc. The typical Miss and Mister game recognizing your colleagues' funniest sides is another interesting option to create a good atmosphere in your Digital Workplace.
At the end of the day it is good for the organization to reward the best corporate values of each and every one of your team members and it is important to make sure that the sense of humor is valued by all colleagues.
5. Be merry with Christmas treats
What is Christmas without a lot of goodies to share with others? There are many ways to have fun with Christmas meals or treats at work. For example, you can suggest that each staff member come to work one day with his or her favorite dish, usually homemade. If you want to make work fun, Christmas meals are sure to help. Dinner at the restaurant is already very popular and it's time to think of new disruptive ideas such as a good picnic or a meal with guaranteed fun.
Another great idea is to have each person bring a starter or a traditional Christmas treat one day, such as the typical Christmas canapés, prawns, or the famous roscón de reyes. Choose a date to bring it to work so that everyone can enjoy the Christmas meals without having to give so much importance to the traditional Christmas dinner. By the way, healthy food can also be a fun way to include an alternative suggestion. That will make everyone happy. ?
6. Play different Christmas-themed games
Let's not settle for just one activity, there are more days than sausages, and more office Christmas acitivities would never hurt. You can propose different activities that we don't do every day. For example, play little games with a Christmas theme in the office, perhaps during lunch, to keep your colleagues happy and engaged during the holidays.
Games with Christmas themes or contests will surely encourage everyone to play along. But there are many more suggestions such as organizing a gymkhana by organizing your colleagues in groups and proposing tests of skill, mimicry or memory. Don't forget to reward them with a gift for the winning team and consolation gifts for the rest. There are other fun games such as taboo words, the game of getting impossible challenges with votes through an app, etc
7. Host a cubicle/department decoration contest
If you want to go all out on decorations, what better way than to make it into a competition? Host a cubicle or department decoration contest, where you let each person decorate their cubicle or desk the way they want to. Alternatively, allow departments to work in teams and decorate their areas.
8. Band the office together for some charity work
Christmas is a time for cheer and merry, as well as a time for giving back. To boost morale among your colleagues during the holiday season, consider banding the entire staff together for some charity work.
You can collaborate with any NGO (Non-Governmental Organization) or foundation. You can visit an orphanage or a nursing home and volunteer there for a day, or you can ask employees to collect their old clothes, books, and other items so they can donate them to those in need.
9. Have a Christmas photocall
With all these ideas, you are sure to have plenty of fun at work during your office Christmas activities. So, why not capture your Christmas fun at work by organizing a Christmas photocall? You can also have some small incentive by making it a contest. A fun way to end this is to upload the pictures.
10. Have a "Bring Your Kids/Pets to Work" Day
If you have a day to spare, you can bring your kids/pets to work. You must do this on a day when there isn't much work, because let's face it – it won't be very productive. But then again, what's Christmas if you don't get to spend it with your loved ones?
With all these ideas, Christmas at work will be much more bearable. Don't forget that the most important thing is to have a good time, use your imagination and propose new activities to make work less monotonous and more fun. Christmas games and ideas will not only lighten the workload of staff and colleagues but will also make your teams feel more united, efficient and productive. Are you up for it?

Always bet on originality, participation and fun surprises.
To read the full article, click here.