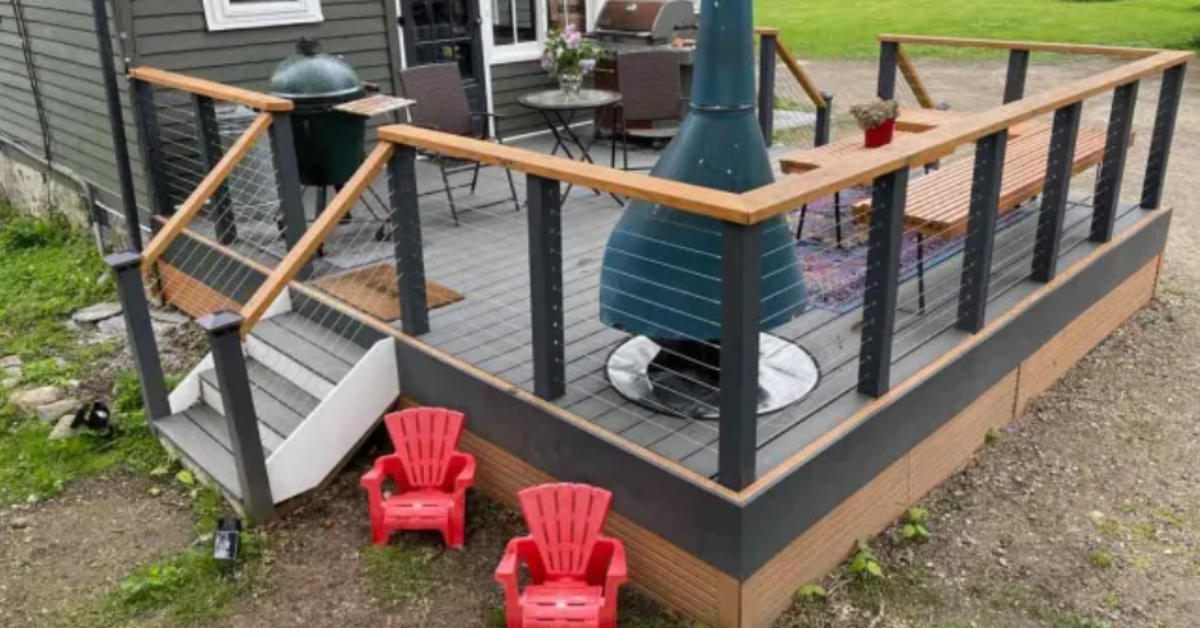 In early 2020, my family and I hired pros to tear off the stone steps, wrapped with a waist-height rock wall, at the back of our house. The steps were nearly 100 years old, and the entire fixture was crumbling.
We were excited to replace it all with a deck—but I bet you can guess what happened next. That project quickly ran off the rails when the pandemic and related lockdowns resulted in soaring lumber prices.  
Around the same time, we were also wrapping up our decking ratings at CR. So as I waited in vain for lumber prices to fall, I found myself doing the unthinkable and started to consider composite decking options like Trex, even though I'd always assumed I'd go with the natural elegance of wood.
By the spring of 2021, after a full year without steps leading to my back door, I managed to secure enough lumber to build a frame for our deck—required protocol, no matter what kind of decking boards you choose.
I planned my deck to be about 225 square feet, and I really wanted to buy 16-foot deck boards because it would make installation far simpler and help me avoid any visible seams in the surface.
But I still hadn't been able to decide between wood and Trex, one of the more popular brands of composite decking. Worse, the lumber shortage was so severe that many homeowners and contractors had started buying up much of the composite decking on the market, too—leaving both options quite scarce.
Like many homeowners, I was initially drawn to pressure-treated southern yellow pine. Far and away the best-selling decking material in the U.S., it offers the natural beauty of wood at a low cost.
When I'd set out to start my project, those pine boards sold for about half what I would have paid for entry-level Trex decking. I'm also handy and fairly good about maintenance, so in addition to staining the wood to maximize its longevity, I knew I'd periodically reseal the deck to keep it protected from the elements and looking its best.
My only other choice was Trex Enhance Basics, a line of decking most similar to the Trex Enhance you'll find in our ratings. I would have considered other composite options, but it seemed all but impossible to find enough of any other entry-level composite to finish my project.
There were pricier picks from brands like Fiberon and TimberTech, but while they offer more realistic grain and color patterns, they also cost two to three times more than the basic Trex.
Digging into CR's new decking ratings, I learned that pressure-treated pine and Trex Enhance have more in common than I anticipated.
They earn identical ratings for weathering and resistance to surface damage. Wood is a bit firmer, so it gets the better score for resistance to flexing. But that could be offset by simply spacing my joists closer together. The smaller the gap between supporting joists, the smaller the chance that any decking material will flex or bend.
With three kids and five grills (I like to use different grills for different tasks), my biggest concern was whether the deck would stain from a spilled Shirley Temple or burger grease. Now, I knew I wasn't going to put all five grills on there at once, but I'd probably set up my two favorites, the gas and the kamado. I grill dinner at least twice a week, even through the winter, and in summer, it's closer to five.
I also knew that the deck would be heavily trafficked. Nearly everyone enters and leaves through the back of the house, where the deck would be, and what's more, I knew we'd have some outdoor furniture and a fire pit on there, so slip-resistance was also a consideration.
Unfortunately, stain- and slip-resistance are where wood and Trex differ most, according to CR's tests.
Wood has a rougher surface, which, in turn, helps to keep you from slipping. Trex is made with mostly post-consumer plastic mixed with a bit of reclaimed sawdust, and its smooth surface led to a rating of Poor in our test for slippage. But it's the opposite for staining: Pressure-treated pine received only average marks for its ability to resist staining because wood is porous. Trex Enhance aced that test.
Then there's the issue of price. While the cost of all materials was rising, the cost of wood had surged even more. In fact, it grew so much over the course of the year that people ended up paying only a 10 to 20 percent premium if they opted for Trex instead of pressure-treated pine. Before the pandemic, they'd have to pay nearly twice as much for composite over wood.
With the high price of materials, I decided to tackle the project myself as opposed to hiring a contractor, as originally planned. This would allow me to use the money saved to pay more for whatever materials I chose.
In this case, Trex, compared to wood, would offer additional advantages: It would be easier to install on my own because, as with many composites, it offers boards with grooved sides that allow for installation with hidden fasteners; getting that seamless look on a wood deck would be a bit more laborious. Moreover, because wood is natural, you often get a handful of warped or damaged boards in an order, and frankly, I didn't want the headache of bringing 16-foot lumber back and forth to a home center.
And the Winner Is . . .
In the end, I went with Trex. The thought of a deck that never needed to be stained and could stand up to the abuse of a family of five was just too tempting.
I've witnessed teens spill things in ways you can't even imagine, and my 5-year-old son, Jack, just seems to ooze a trail of chocolate and red popsicle drippings wherever he goes. I wasn't thrilled that our tests found the surface to be so slippery, but I also knew the deck wasn't going in a damp location, and that I'd be good about applying salt to prevent ice in winter.
Once I made my decision, I'd frequently refresh the Lowe's website in hopes it would restock at my local store. Often, I'd find it had a few boards in stock, but I didn't want to break up my order because the store charges $79 for each delivery of this size, and I knew I couldn't readily get 16-foot-long boards home by myself.
One Sunday night, after patiently waiting for nearly a month, I hit the jackpot and found all 40 I'd need, which included some extras for steps and possible mistakes. They were delivered a few days later.
I took a day off from work to dig and pour the concrete footings by hand, then the rest was actually pretty easy. Call me a curmudgeon, but the only thing I love more than a good DIY project is a good DIY project that gets me out of weekend plans. After four straight glorious, uninterrupted weekends, we had something that more or less resembled a deck.
In fairness, after my initial burst of productivity, I let some elements linger. I had to wait six to eight weeks before applying paint and stain to the wood posts and railing. (I went with CR's top-rated outdoor wood stain.) This allowed the damp pressure-treated lumber to fully dry out, which helps paint and stain permeate and offer better protection.
Eventually, I also added pressure-treated pine skirting around the bottom. Trex makes composite skirting and trim, too, but I liked that the wood added some warmth, plus it should hold up well since it's not taking the same abuse as the deck boards. Several weeks ago—a full year after the deck was finished—I actually found the time and motivation to finish the steel-cable railing.
In the end, we spent about $4,400 for deck materials. (Before the pandemic, the composite decking and wood trim would have come closer to $3,400.) In addition, we paid around $2,100 for an at-cost foundation repair by a family member who works in construction, bringing the total cost of the project to around $6,500.
Back when we considered hiring a contractor—who would have handled the foundation repair, deck construction, and materials—we received bids for $14,000 for the same deck in pressure-treated pine or around $17,000 for entry-level Trex. So, all told, we ended up saving about $10,500 by building the deck ourselves.
With the deck in place for a little over a year now, I couldn't be happier. It spent much of its first winter covered in snow, and, admittedly, it was slippery, but I was diligent about treating it with salt and sand to melt the ice and provide some traction. By the time spring came around again, the deck emerged looking as good as it did when I finished it last summer.
I know that's not hugely impressive after only one year, but our testing at CR confirms that Trex samples, which undergo evaluation in Arizona and Florida, have held up well for at least three years in the intense heat and sun. So I expect decent longevity in my shady backyard here in the Northeast.
By contrast, the pressure-treated pine steps I put in just a few years ago in the front of our house are already horribly stained with everything from mud to melted ice cream, and the wood is splitting, too.
When I get around to redoing them, it's safe to say I'll choose a composite like Trex again—and hope that the project won't take me more than a year to finish.
To read the full article, click here.