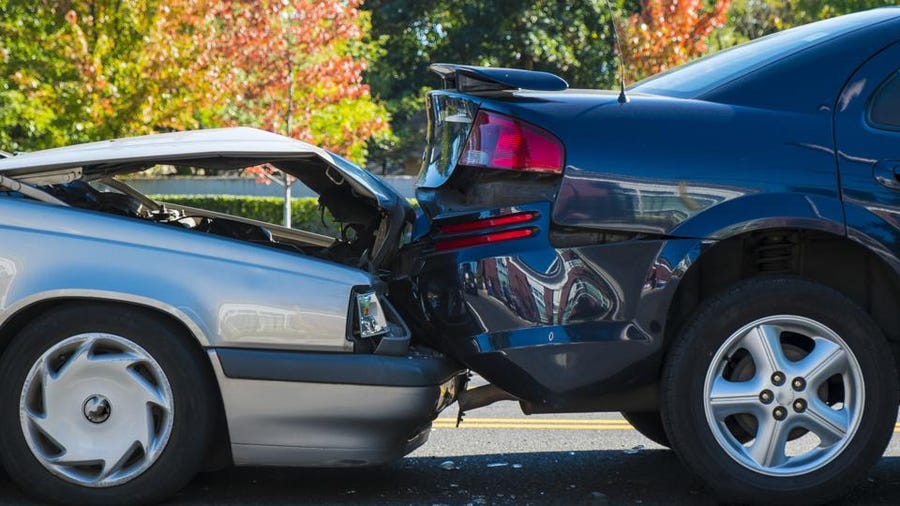 Rear-end collisions accounted for 32.5% of all motor vehicle collisions in 2019, according to the National Highway Traffic Safety Administration (NHTSA). They were more common than any other type of crash and were responsible for around 7% of all accident fatalities and 31.1% of injuries.
If you were involved in a rear-end collision, it's helpful to understand how these types of situations are resolved and what your rights may be to obtain compensation post crash.
Rear-End Collision Settlement Examples
In most states, a driver who is responsible for causing a rear-end car accident is responsible for covering damages that victims experience as a result of the crash. This includes providing compensation for:
Medical bills
Lost wages resulting from a personal injury
Pain and suffering
Property damage
In some situations, the parties in the crash go to court to determine who is at fault for the crash and how much compensation is appropriate. But many rear-end accident cases are settled outside of court. That's because fault is usually clear—the driver in the rear is typically to blame—and because injuries are often not that severe.
Accident victims should make sure they are fully compensated for losses before settling. Federal Highway Administration data from 2018 revealed comprehensive costs of a rear-end vehicle accident at a signalized intersection averaged $26,700. Since costs have increased since this report, accident victims today likely will receive even more substantial compensation.
While reviewing rear-end collision settlement examples can be helpful, ultimately the appropriate amount of compensation for each victim is based on the extent of damage experienced.
Establishing Fault for Rear-End Accidents
Because the driver who is responsible for a crash is generally required to cover the accident victim's costs, it's important to establish rear-end collision fault after any collision that occurs.
In most cases, the driver of the rear vehicle is considered to be at fault for causing the crash. This is the default assumption because drivers are expected to maintain a safe following distance. Most states say a safe following distance is four seconds between the time a front vehicle and a rear vehicle pass the same object.
If drivers in the rear hit a vehicle in front of them, it's assumed they failed to maintain the appropriate amount of space and/or failed to pay careful attention to see that the lead driver was slowing or stopping. Because of these assumed failures, rear drivers are considered liable unless proven otherwise.
Negligence in Rear-End Collisions
Drivers are held accountable for crashes they cause because when a person is considered "negligent" in the eyes of the law, they must compensate those who are harmed because of their negligence.
Negligence is defined as a failure to use the same degree of care that a reasonable person would use under the same circumstances. Drivers have an obligation to other motorists to be careful behind the wheel, which means:
Following the rules of the road
Paying careful attention to other vehicles
Maintaining a safe following distance
Keeping to a safe speed
Maintaining control of the vehicle at all times
Drivers who don't fulfill any of these obligations are considered legally negligent. In the case of a rear-end crash, the very fact that the driver hit the lead vehicle from the rear is prima facie evidence of negligence. Prima facie is a legal term that means "at first glance" or until proven otherwise.
Comparative Negligence vs. Contributory Negligence
Although the assumption is that the driver in the rear is at fault for a rear-end crash, sometimes the motorist in the front car could share some blame as well. This could affect rear-end collision fault and could thus affect any compensation that accident victims are entitled to.
If the driver in the front vehicle stopped short or cut someone off, it will be important to assess the level of blame to attribute to them. It's also important to determine if the laws in the state where the accident took place subscribe to contributory negligence or comparative negligence rules.
Contributory Negligence
In a small number of states, contributory negligence rules apply when determining who is responsible for losses after an accident. Under contributory negligence rules, if a motorist contributed in any way to causing an accident, that motorist cannot recover any compensation.
This would mean if the driver of the lead vehicle was even 1% to blame for causing a rear-end crash, they would be entitled to no compensation at all—even if the driver of the rear vehicle was 99% at fault.
Comparative Negligence
Comparative negligence is a far more common approach in accident cases. Under comparative negligence rules, if a driver is partially to blame for causing a crash, they can still recover partial compensation. For example, if the driver of the front car was found to be 10% at fault and sustained $100,000 in damages, the driver in the rear vehicle would be responsible for covering 90% of losses because they were 90% to blame.
Some states have pure comparative negligence rules, which means an accident victim can recover compensation from another motorist regardless of what level of culpability the victim shares. In these states, if the lead driver was 70% at fault for the crash, he could still recover compensation for 30% of his losses from the motorist in the rear vehicle.
Other states have modified comparative negligence rules. These allow the accident victim to obtain compensation only if the other motorist was at least 51% to blame. Here are some rear-end collision settlement examples when modified comparative negligence rules apply:
If driver A is either 50% or 51% (The specific percentage depends on state rules) responsible for the crash, driver A cannot recover any compensation from driver B.
If driver A is less than 50% or 51% responsible, driver A can recover partial compensation. If driver A was 30% responsible, they would be able to collect 70% of damages from driver B. If driver A was 10% responsible, they would be able to collect 90% of damages from driver B.
Determining rear-end collision fault can be complicated in cases where both parties were partly to blame. Insurance companies may determine what amount of fault they are willing to accept and make a settlement offer based on this assessment. But if the accident victim doesn't agree with this determination, the car accident case could end up in court.
Common Injuries From Rear-End Accidents
Many different types of injuries can occur in rear-end accidents. Some of the most common injuries include:
Neck injuries such as whiplash
Back injuries including sprains and strains
Spinal fractures or disc injuries
Getting Compensation After a Rear-End Accident
Rear-end accidents are common and can cause tens of thousands of dollars in damages. Accident victims should review rear-end collision settlement examples and understand the rules for rear-end collision fault so they can make informed decisions about their rights.
Often, it's a good idea to talk with an experienced attorney about options as well—especially before settling a case. An attorney can negotiate with the insurance company on your behalf if you have been hurt in a rear-end collision or can provide assistance with pursuing a civil lawsuit if the insurer does not agree to provide enough compensation for damages.
To read the full article, click here.