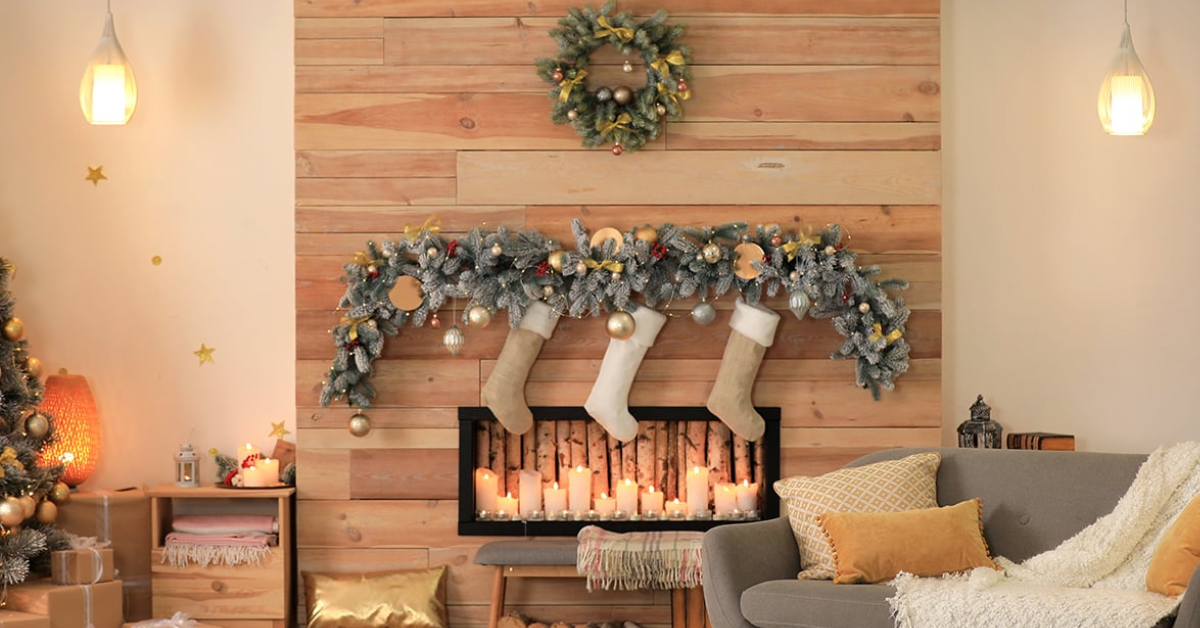 Whether you'll be traveling or staying home for the holidays, regardless of your plans, protecting your loved ones, home, and property is still a main priority. Theft, intrusions, flooding, electrical and fire hazards, and other potential dangers can still occur without adequate supervision.
Holiday preparations, such as trimming Christmas trees, hanging lights and other decorations, and cooking and baking, while safely caring for loved ones and household pets—must also adhere to safety hazards and precautions.
Below we'll outline our top 15 tips for safeguarding your home, family, and property this holiday season.
1. Christmas Trees & Lights
Both artificial and fresh-cut Christmas trees require safety precautions. According to fire information and knowledge resource base The National Fire Protection Association (NFPA): "Between 2013-2017, U.S. fire departments responded to an average of 160 home fires that started with Christmas trees per year."
Ensure safe placement away from heat sources such as gas fireplaces, vents, or electric heaters. For artificial trees, choose one with a specified "Fire Resistant" label.
For live trees, schedule reminders for regular watering to prevent falling needles and dryness. It's recommended to remove or recycle live trees by mid-January to avoid additional fire hazards.
Lights should comply with the highest safety standards designated by testing and certification facility Underwriters Laboratories (UL). This verifies the product has successfully passed the lab's requirements for fire, electric shock, and other dangers. 
Consider testing older models that have been through general wear and tear, and avoid additional risks, such as linking multiple light strings together.
Note the following, additional guidance:
Avoid Lights With Frayed & Exposed Wires
Consult the Manufacturer's Instruction Guide for Safe Assembly
Avoid Overloading Electrical Outlets
Don't Use Indoor Lights Outside & Vice-Versa
SMART HOME SAFETY TIP: Set up smart outlets to automatically turn lights on and off for added safety and energy efficiency.
2. Electrical Cord & Electrical Outlet Best Practices
While many homeowners want to capture the holiday spirit through extensive colorful light displays and decorations, these also require additional outlets and extension cords. There are also additional safety features and considerations to ensure a safe display free of electrical hazards.
If your light display requires extension cords, consult the following best practices:
Avoid Connecting Two Extension Cords Together
Ensure Indoor Cords Aren't Used Outside & Vice-Versa
Don't Run Cords Through Ceilings & Walls
Never Plug a Two-Prong Cord into a Three-Prong Outlet
SMART HOME SAFETY TIP: Attach your cords via a UL-approved smart power strip to avoid overheating.
3. Have Your Gas Fireplace Checked & Inspected
These and other gas-fueled sources such as appliances, grills, motor vehicles, and wood stoves can potentially cause carbon monoxide poisoning if not inspected regularly.

It's also prudent to have your chimney checked and swept to remove blockages, soot, and other potential dangers.

Carbon monoxide detectors and smoke alarms offer added protection should this dangerous gas present itself within your home. When purchased through a services provider such as General Security, homeowners can add Central Station Monitoring to directly alert local authorities and first responders. 
SMART HOME SAFETY TIP: Set up mobile device alerts for immediate carbon monoxide and smoke detection, and low or missing battery notifications.
4. Protect & Secure Front-Porch Areas
Beware so-called porch pirates—those hoping to steal delivered packages from front porches. These perpetrators are more prevalent during the busy online holiday shopping season, and such thefts go largely undetected due to their swift, inconspicuous nature.

To help deter these and other uninvited guests or trespassers, consider adding front door and doorbell cameras for additional protection. They are equipped with two-way audio, so homeowners can initiate conversations should someone approach the front door unannounced.

Some models can also remotely answer and unlock your door when you're not home to provide entry for expected guests, such as family members and friends, childcare providers, and home health aides. 
SMART HOME SAFETY TIP: Look for cameras with smart features such as two-way audio, remote viewing, night vision, motion detection, and video analytics. 

5. Check on Elderly Loved Ones & Neighbors
Just as the coronavirus pandemic forced in-person business meetings online via video-based chats, many utilize this same technology for virtual gatherings and check-ins with elderly family members, children, and even pets. 
Smart technologies such as Wellness and WellCam provide real-time, two-way audio and video communication. Both also easily integrate with Alarm.com Personal Emergency Response wristbands for immediate connection with Central Station Monitoring.
SMART HOME SAFETY TIP: Remote monitoring and video surveillance provide mobile check-ins, for added peace of mind.
6. Safeguard Appliances & Other Potentially Dangerous Household Items
Safeguarding hot stoves, ovens, and grills is your best defense against potential cooking accidents. Ensure all appliances are in working order, and never leave children or pets unattended when the kitchen becomes a hot zone.
SMART HOME SAFETY TIP: Install smart stove and grill guards for automatic appliance shutoff. 
7. Prevent Leaks & Flooding With Moisture Detection
Flood and temperature sensors can safeguard your home from possible moisture and water damage. When installed in areas that should normally be dry, these alert about interior and exterior issues, such as leaking pipes, sinks, toilets, and faulty appliances.
This technology is also useful for seasonal or rental properties. Even when you're not physically in the home, smart technologies will send a real-time warning to your mobile phone, should an issue arise.
SMART HOME SAFETY TIP: Place sensors in kitchens, bathrooms, and basements for real-time detection.
8. Install Contact Sensors for Break-In Detection
When properly placed above doors and windows, contact sensors provide intrusion and break-in detection upon separation. As an important component of your home's alarm system, these can also be added to garages and outdoor gates, and on medicine cabinets and drawers, for wellness monitoring and alerts. 

SMART HOME SAFETY TIP: More than just intrusion detection, contact sensors can be programmed to trigger interior changes, such as in lighting, temperature, and motion.
9. Keep Doors & Windows Locked & Secured
When hiding spare keys, avoid obvious spots such as welcome mats, flower pots, and door jambs. Choose more inconspicuous locations including sheds, garages and outdoor lockboxes, or enlist a trusted neighbor.

SMART HOME SAFETY TIP: When programmed with a unique user code, smart locks can secure and unlock doors whether you're home or away.
10. Check & Monitor Decorative Candles
While they provide added holiday cheer, unattended decorative candles are fire hazards. According to the NFPA, from 2015-2019, U.S. fire departments responded to approximately 7,400 home structure fires from candles.
Similar to Christmas trees and lights, it's best to keep candles away from flammable materials. Never leave them unattended or burning for extended periods, and remember to extinguish them when retiring for the evening or going out.

SMART HOME SAFETY TIP: Set a timer or digital reminder so candles don't burn for extended periods, or consider other non-flammable sources.

11. Don't Forget About Pet Protection & Safety
Animals can trigger motion sensors leading to false alarms with standard home security components, and accidentally automate even the most advanced smart home devices. This can all be remedied by utilizing tech equipped with pet-specific settings, while also monitoring household pets while you're away.

The nonprofit American Society for the Prevention of Cruelty to Animals (ASPCA) recommends additional precautions for pet protection, such as securing Christmas trees and loose decorations; removing illness-causing plants, food, and drink items; and keeping wires, cords, and other hazards out of reach.
SMART HOME SAFETY TIP: Set up all motion sensors correctly to avoid false alarms, and use security cameras to stay in touch.
12. Stay Safe When Placing Indoor & Outdoor Decorations
As aforementioned, it's important to check and inspect holiday lights, and extension cords and outlets for potential hazards. This also includes safe decoration placement. Independent federal regulatory agency the U.S. Consumer Product Safety Commission (CPSC) reported approximately 14,800 emergency room visits due to holiday-related decorating injuries during 2019.
It's recommended to not use furniture as ladders or step stools, and ensure all decorations are in safe working order.

SMART HOME SAFETY TIP: Inspect and check ladders and other equipment for optimum safety.
13. Ensure Working Smoke Detectors &
Carbon Monoxide Monitors
Smoke and carbon monoxide is dangerous, and can be fatal. Ensuring your home's fire and life safety devices have been checked and inspected is of paramount importance. Listen for any beeping or chirping alerts, which could indicate carbon monoxide present in the home. If so, fire emergency personnel and first responders must be contacted immediately. 

SMART HOME SAFETY TIP: Regularly inspect and check carbon monoxide and smoke detectors to ensure proper functioning.

14. Keep Vehicles Properly Maintained for Safe Driving
Whether you have a new driver in the family, or want to keep tabs on an elderly loved one, it's important to ensure vehicles are maintained and monitored for safe driving. If you plan to be out of town for the holidays, consider purchasing a GPS tracking device for real-time mobile alerts regarding vehicle location and diagnostics, speeding, and other important safety information.

15. Create a Home Safety Checklist for Your Family
Set a family meeting to discuss your home safety checklist and emergency preparedness plan. While you hopefully won't ever have to utilize these, The Red Cross advises homeowners to practice home emergency safety plans biannually.
To read the full article, click here.